Premature nostalgia!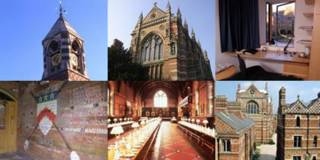 I'm feeling all nostalgic and I haven't even left yet! Leaving tomorrow - may even have a lift so I don't have to do lots of trips on the bus.
Clockwise from top left: Clocktower; Chapel; Room in Arco (my building this year); Liddon Quad and Chapel seen from Arco Roof Terrace; Keble Hall; Blades (College rowing results).